Managing hormonal mares can present challenges for their owners. Whether it's their seasonal changes or part of the natural breeding cycle, there can be times when the 'moody mare syndrome (MMS)' reputation can seem justified.
Some mares may become temperamental, impatient or aggressive during these times. It's therefore important she gets the best the support to help her feel as calm and happy as possible.
Top Tips for managing hormonal mares
Keep to a normal routine where possible
Remove any environmental stress triggers
If she suffers for separation anxiety, try not to provoke this by removing her field or stable companion
Keep up regular exercise routine, especially if she is stabled
Feed balanced and nutritional diet with reputable and quality horse feed
Never get angry with a temperamental mare, or punish her, encourage and reward good behaviour instead
Consider a natural supplement to assist with hormonal fluctuations
Supplements for Hormonal Mares
Our MaxaMare is a liquid supplement is formulated to support the mare during seasonal changes. Containing the ingredients Chasteberry, Marshmallow and Passion Flower.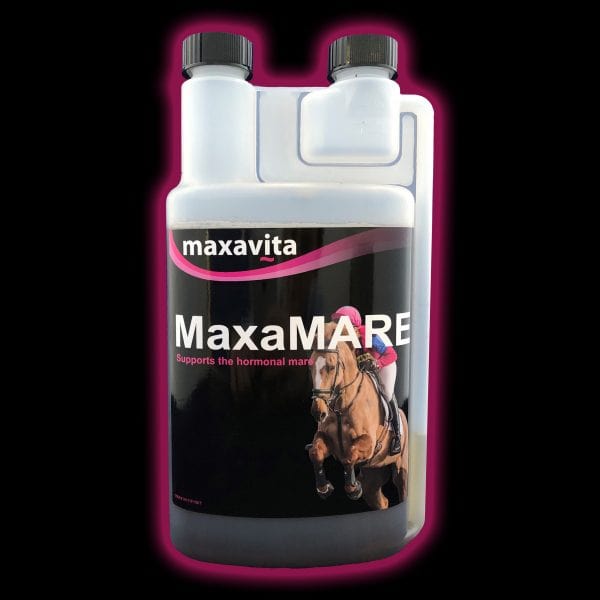 These ingredients added together assist in supporting the Pituitary Gland, therefore helping to maintain and regulate normal hormone function.
We have developed this liquid supplement to provide your mare with the comfort and relaxation she needs to be able to continue performing at her best.
For further information or to purchase Maxamare, please click the button below.
An Introduction to Maxavita
We provide high quality Green Lipped Mussel supplements for both the horse and dogs. We are passionate about Green Lipped Mussel (GLM) and the benefits it can offer to support health issues including:
Joint care and maintenance
Respiratory problems
Hoof and skin problems
Nervous tension
Digestive irritation
Heart and muscle health and other inflammatory conditions
Maxavita are constantly researching and developing new products to utilise our patented GLM extract, SuPerna, to its maximum potential. We are committed to developing unique, high-quality supplements, using only the best natural ingredients.